An Inside Look into Analytics at Evermade
Say hi to the newest member of the bunch, Markus Rajala! Markus moved to Helsinki from Jyväskylä and joined our analytics team just a couple of weeks ago. This guy is experienced in SEO, SEM, web analytics and marketing automation, and needless to say, we're all very excited that he's here. For this blog post, we asked the team some questions in order to get to know them better and map out the future of analytics at Evermade.
What's the big deal with a new team member? Well, analytics at Evermade has grown to be one of the competencies, just like design and development. We want to provide our clients with the best possible digital solutions and believe this requires a balance of design, development and analytics. The goal of our team besides client work is to train everyone to understand and use data in their everyday work, and basically to make all our business processes guided by data. But enough with the data talk, let's see what our analytics team has to say!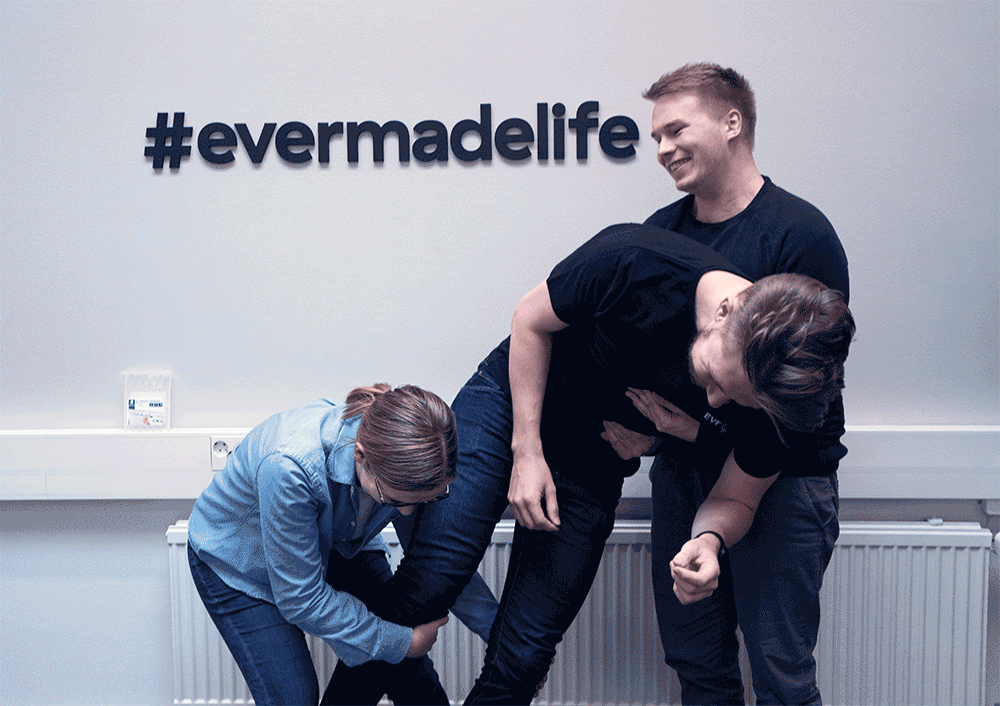 How  does it feel now that there's a new team member?
Vilma: Great! Evermade has become known as a design and development agency, but now we're focusing more on continuous site development led by data and optimization work. Our overall process of creating digital solutions is much more holistic. SEO is a huge part of designing a site, landing pages affect the results and profit from advertising… the list goes on. The point is that measurement matters. And when a site is live, this team doesn't disappear – we will keep improving it based on user data. After all, our goal here is to generate more revenue for our clients and maximize the value of a website or app.
Markus: I really believe that working as a team helps us grow analytics as one of our core competencies. Each of us has been working with very different kinds of clients. I see this as a good thing as it allows us to learn from each other and help us form a strong team.
Juha: It now feels much more like a "real" team. If I'm unsure about something, I can ask my team, not just Vilma (who's always busy). Even though we have just one more person, the feeling is completely different!
What are your team's next steps?
Vilma: The purpose of this team is not to be separate from others, but bring analytics closer to design and development. Our long-term target is always to create the best possible value for our clients. I know that challenges and even difficulties are part of every ambitious journey, but I feel confident. I have beaten difficulties before and will keep doing so in the future.
Markus: What Vilma said – we want to be our clients' number one strategic partner. Now that we have a solid team, we can influence how analytics becomes a part of this whole business.
Juha: I've always been a person who works in a cross-competence fashion, and being a part of the analytics team allows me to take that even further. I'm really excited about all the opportunities we have for shaping the future of Evermade as a data-loving company.
Why do you find analytics interesting?
Vilma: I don't like guesswork, I like predicting the future. If organic traffic grows and conversion rates go up because of content optimization work I've done, it makes me feel like a winner! To put it simply: analytics is interesting because everything can be explained with data. With data, it's possible to answer to the needs and desires of the users – those are the one's who really matter.
Markus: I think analytics and data as a pair of words sound kind of unattractive… But I think this stuff is important because it's the base of all our decision-making. Sure, we don't always analyze things much, but we still make all important decisions based on information. We don't choose a wife or a husband with our eyes closed or by marrying the first person we see walking down the street. Nope, it's all about a purposeful collection and analysis of information. That's why data is so cool!
Juha: For two reasons: first, I've had my hands full of code and design work for years, and I've always been wondering how the end users experience my work. Second, I've always enjoyed working with people. Analytics has helped me to ask more questions and to understand the different aspects of people's needs and behavior.

What's the best part of working with each other?
Vilma: Juha and Make are alright, I'm not mad at them yet… Ask me again next week. On a more serious note, the best thing is that we have experience in different fields. Juha's technical skills are a huge benefit for the team and Markus is a great strategic thinker. A strategy is essential for creating long-term improvement plans for our clients and finding the best client relationship practices.
Markus: We're all damn great people. Vilma is like a hound dog with a huge drive to sniff out opportunities in every corner. She's a really ambitious person who doesn't mind being challenged. The best thing about Juha besides the witty humor is definitely his strong technical background. Coding skills combined with an excellent understanding of analytics is a pretty rare thing to find. Juha also makes sure our team is very agile – he does everything right away!
Juha: We have a great synergy going on, both in terms of professional strengths and the general vibe at the office. Vilma and Markus are professionals and really great at what they do, and they're also laid-back people. We're constantly bouncing ideas with each other, which I feel is a great way to ensure we continue to develop and serve our customers in the best possible ways.
Want to better understand your site visitors and optimize for more conversions? Chat with us!
P.S. Have a question? Check out our FAQ.